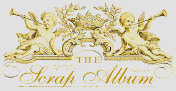 Victorian
Greeting Card
Manufacturers
for Christmas
and the
New Year
Hildesheimer & Faulkner
"Christmas Cards.--'Here we are again!' as they come tumbling in, fresh from the hands of the publishers, Hildesheimer And Faulkner. More artistic than ever!"
Punch December 6, 1890
This publishing concern was formed in 1881 when Albert Hildesheimer went into partnership with Charles William Faulkner and occupied premises at 41 Jewin Street, London, England.
This well known Art Publishers held a competitive exhibition of designs at the Galleries in Suffolk Street, London during 1881. Offering £5000 as prizes for good designs Hildesheimer & Faulkner enlisted the aid of distinguished Royal Academicians, John Everett Millais, Marcus Stone and George Adolphus Storey, to judge the entries.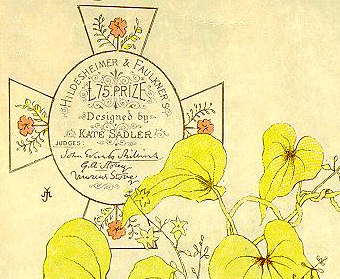 Detail from reverse of £75 prize winning card designed by
Kate Sadler. Mouseover to see front of card.
The best were reproduced the following year and received a mixed reception by the press - "If the cards before us are a fair selection from the prize designs, it is quite certain that the designers earned their money very easily. While the designs are fair, and are in many cases well printed, they are all hopelessly conventional." However, another reviewer noted "The higher priced examples are rendered more acceptable by tasteful work at the back."
From top
Hildesheimer & Faulkner Trade Card with their
American agents address
Appleton & Co, 309 Broadway, New York
190 x 127mm (7½ x 5in)
1885
Hildesheimer & Faulkner Christmas card
95 x 133mm (3¾ x 5¼in)