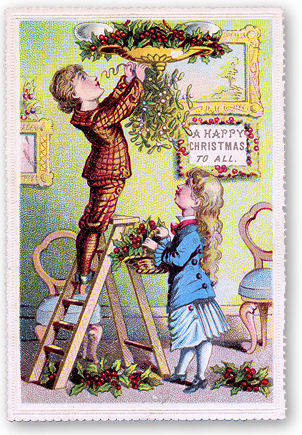 To deck your walls on Christmas Day
The Victorians were passionate in their decoration of the home, and were just as anxious for their churches to be suitably decorated as well - while flowers decorate the sanctuaries at Easter, the scarlet berries hang there at Christmas.
Twine the ivy in your homes
Holly and ivy have long held their sway in cottage and in hall, even the poorest dwelling welcomed the festive season with decorations of these cheerful winter evergreens.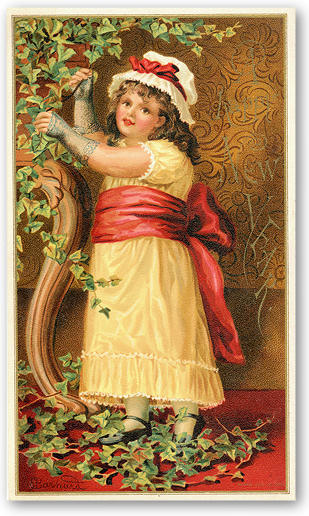 From Top
No publisher
62 x 92mm (2½ x 3½in)
Raphael Tuck & Sons
Artistic Series 1540
Artist: Emily Barnard
102 x 178mm (4 x 7in)

Behold the Christmas holly comes
With the musical cry of "Holly, holly, O!" comes the hearty one also of "Winter evergreens", telling all through the town the festival of Christmas is near.
The holly cart was a pleasant sight in the streets just before Christmas, it would come round specially for those people who could not collect their own from the countryside.
Hurrah! for the jolly Christmas tree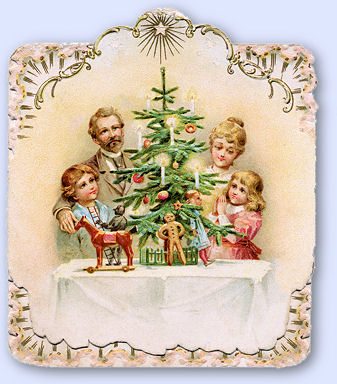 The Christmas tree is captivatingly beautiful to children's eyes as it stands in its blazing brilliancy, gleaming with lights and laden with such thick-hanging clusters of rich and varied fruit. Prince Albert is credited with the introduction of the Christmas Tree in England. It quickly became the centre piece of all seasonal decoration.
"The birthplace of the Christmas-Tree is Egypt, and its origin dates from a period long antecedent to the Christian era.
The palm-tree is known to put forth a shoot every month and a spray of this tree with twelve shoots on it was used in Egypt at the time of the winter solstice as a symbol of the year completed.
The palm-tree spray of Egypt, on reaching Italy, became a branch of any other tree (the tip of the fir was found most suitable from its pyramidal or conical shape) and was decorated with burning tapers lit in honour of Saturn, whose saturnalia were celebrated from the 17th to the 21st of December, the period of the winter solstice."
Illustrated London News December 1854
From Top
No publisher
92 x 57mm (3½ x 2¼in)
circa 1870s
No publisher
83 x 95mm (3¼ x 3¾in)
circa 1890s