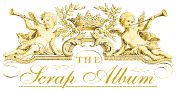 In 1882 Jumbo, the London Zoo's great African Elephant, was the centre of an extraordinary outburst of controversy and sentiment. The Zoo was at a peak of popularity and Jumbo was the star attraction, the greatest treat for a child was a ride on his back.
But in the privacy of the Elephant House, the amiable Jumbo became intractable and tested the courage of his keepers. Fearing some accident, the Zoological Society sold the biggest creature in captivity to Barnum for his circus in America.
Barnum ballyhoo was given full rein as Jumbo toured the US and Canada, the public being advised to see him before he got too big to go through the tunnels on the route of the circus train.
In 1885 Jumbo was killed and the train that collided with him was derailed.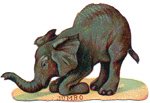 Return to The Victorian Scrap
Jumbo - The Elephant
Jumbo - The Childrens Friend
Jumbo - The Childrens Friend in Danger
Jumbo - The Childrens Friend Killed
Read more on Jumbo's departure to America