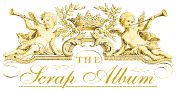 Fluffy Bipeds
All kinds of birds flutter across the Victorian Christmas and New Year card.
The English robin takes pride of place on cards of the 1860s and 70s, perhaps because of its long association with folklore and legend.
Exotic birds from the nations of the world graced the cards, bringing vibrant and exciting colours to enliven the dull and cold winter days.
In late Victorian times it became fashionable to wear whole stuffed birds as decoration on hats. This was soon followed by a movement to ban such practices.
In the early part of Victoria's reign there was a vogue for lavishly illustrated books about the new and exotic birds which were being brought back to England by sailors and naturalists.
The transformation of these wild creatures into pets, that became members of the family or companions, combined with the joys of teaching parrots, macaws and other cherished birds to talk, captivated the imagination of the Victorians.
The moping owl does to the moon complain -
"Man never is, but always to be blest."
The moping owl's remark doth truth contain,
With more than wanted elegance expressed.
Yet spite of all the fluffy biped says
May You be Happy in the new born Year,
See many, many bright and joyous days
And wisely taste of all that's fresh and fair !